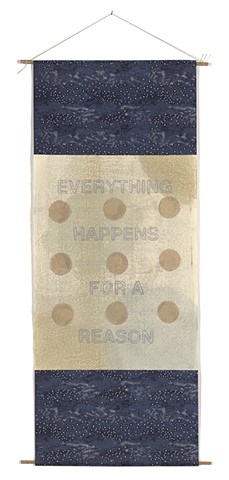 EVERYTHING HAPPENS FOR A REASON
Watercolor woodblock monotype, stamping, stenciling, colored pencil, Japanese decorative paper.
47" x 19" (119 x 48 cm)
SOLD
Like many of the cliches and platitudes in this series, "everything happens for a reason" is a thing that people often say when they want to move on and move away from an uncomfortable thought or situation. "Everything happens for a reason" is often used to absent ourselves from grief and regret. But the phrase also reflects the human tendency to want to make meaning from our lives.
I paired this with a portion of a Bible verse from Ecclesiastes – "and a time for every purpose under heaven."