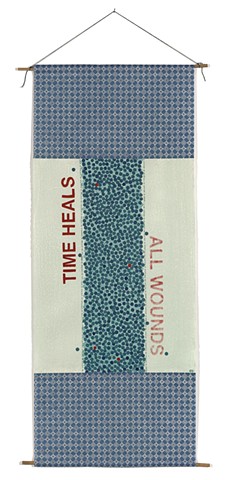 TIME HEALS ALL WOUNDS
Watercolor woodblock monotype, stamping, stenciling, Japanese decorative paper.
47" x 19" (119 x 48 cm)
I was nursing some fresh wounds as I made this work, having just lost Ty, my 13-year-old labrador retriever. He had been gone less than two months, certainly not enough time for the wounds to be healed, and part of me didn't even want healing. I wanted to remember. I wanted to remember the sensation of patting Ty's head or throwing my arms around him, I want to remember how his face seemed to smile at me whenever I came into the room. I think at best, time fades all wounds, and there's some sorrow even in the fading.
A Bible verse from the book of Psalms repeats over and over along the edges of the scroll: "help me lord hear my prayer."