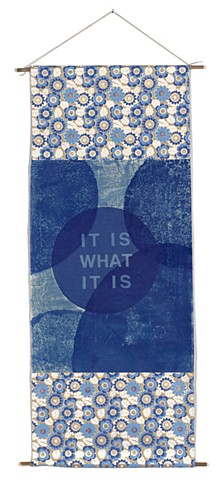 IT IS WHAT IT IS
Watercolor woodblock monotype, stamping, stenciling, paper print, Japanese decorative paper.
47" x 19" (119 x 48 cm)
SOLD
We toss off this common phrase to mean "whatever" — things are as they are and we're not going to try to change them any further. Or we say it to mean "stop talking about that; let's move on." But I think "it is what it is" can also be an insight about accepting what is rather than fighting against reality. Not fighting reality can alleviate a lot of suffering.
The smaller text on this scroll says I am that I am that I am that… in a repeating circle.