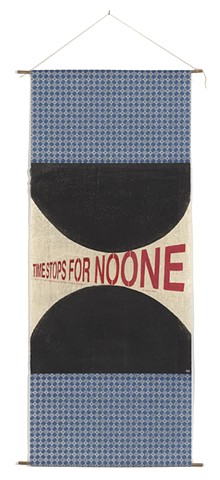 TIME STOPS FOR NO ONE
Watercolor woodblock monotype, stamping, stenciling, Japanese decorative paper.
47" x 19" (119 x 48 cm)
Like many of these cliches, "time stops for no one" urges us to move on and not linger in the past, or even in the present. It also suggests that we should cherish the time we have, since we don't know when our lives will end. I was struggling to find a sub-text for this one when the poem Good Bones by Maggie Smith came across my Facebook page in the aftermath of the Orlando shooting – see next image for detail.